THE BEST ALBUMS OF 2008 (and other things)
So, like any music-related blog, here's a listing of my top albums this year. Some of it may seem a bit odd and arbitrary, but there's some backings to my orderings. But, it's all merely numbers – I've enjoyed all these albums throughout the year, and completely numberless. However, for the sake of order, here's the list…
 
35. AmpLive – Rainydayz Remixes
Here's a great album remix concept that works out all the way through. Rather than simply mashing up In Rainbows with another album, AmpLive rearranges the Radiohead tracks into completely new and downright great hip-hop songs. Del's track ("Videotapez") is one of the best hip-hop songs of the year.
34. High Places – 03/07 – 09/07
It's a bit random, but this selection of songs recorded by High Places made from March to September of last year is, if anything, a mark at how great this band can be. "Head Spins" and "Jump In" offer up some fantastic experimental pop songs, bringing some heft to the album of mostly-studio experimentations.
33. Future Islands – Wave Like Home
Comparisons are pretty easy, but in this case, it's impossible to ignore. Baltimore's Future Islands sound a little something like if New Order used cheap laptop technology for their electronics and were fronted by a slightly subdued Iggy Pop. "Old Friend" is perhpas one of the most endearing beginnings to any album this year.
32. Fuck Buttons – Street Horrsing
Listen to the first two tracks and just try not getting hypnotized. Experimental-art-whatever-kind-of-rock that's quite pallatable.
31. Lil Wayne – Tha Carter III
I'm not sure what convinced me about this record. Oh wait, it could be the brilliant minimalism of "A Milli" and Wayne dropping rhymes like "you drop em cuz we pop em like Orville Redenbacher." Now that's an imaginative and oddball line for you.
30. Atmosphere – When Life Gives You Lemons, You Paint That Shit Gold/Strictly Leakage
Sure, Slug's fit of anger may have become… well, sluggish. But he's surely got more to offer, as seen on When Life Gives You Lemons. Although there are some rough patches here and there, Slug melts his tales of woe and wisdom of everyday folks with Ant's increasingly experimental neo-soul. Guest spots from TVOTR's Tunde Adebimpe and Tom Waits sure do add to the mix. The free Strictly Leackage is a bit of a toss-away in comparison to the large amount of Atmosphere material out there, but pump those beats and you really can't go wrong.
29. The Very Best – The Very Best Mixtape
This mixtape might be a little higher to the top if it weren't for the fact that many of its best tracks are simply recylced instrumentals that are quite recognizable… then again, that is part of the appeal of most mixtapes. Even so, Esau Mwamwaya's skillful flow brings a newfound musicality to the over-used Clash sample on "Paper Planes"… now, if I only new what he was saying…
28. Foals – Antidotes
When I saw Foals in a tiny club in London back in 2007, I was sold. But when Antidotes was released, I didn't pick it up. Actually, I still haven't. However, I've heard plenty of the album, and after having a sizeable amount of distance from the material and the British hype machine, I must say the things that brought me to the band are still there. There's the quirky math-minimalist streak, combined with an ambience I originally pushed off in search of more post-punk punch but does the trick. If only some of the songs stood out a little more on their own, or rather, didn't appear to repeate the tropes of other tracks, this album would have been in the top ten.
27. Pattern Is Movement – All Together
Punk drums and church-like organs with operatic singing, and tons of positive feedback. How can you go wrong?
26. Hercules and Love Affair – Hercules and Love Affair
The sound of Hercules and Love Affair breathes disco, but it seems to be missing part of the free-for-all effervescence that fills the best tracks of that era. But considering that the large majority of songs from that era get increasingly hard to listen to, consider HALA a neo-disco best of. Some of these songs are that great. Hats off to Antony Hegarty of Antony and the Johnsons, who's trumpet-like warble makes the albums best songs.
25. Apollo Sunshine – Shall Noise Upon
Like the Beatles? Like classic rock? Anti-folk? Country? Jam? "Indie?" Well, it'd be best to run out and pick up this record immediately. It's great to see Apollo Sunshine constantly producing great music, and their work in the studio has certainly begun to equal their live presence. What's the worst thing about the record? The fact that it hasn't been getting its proper due.
24. Kanye West – 808s and Heartbreak
Here's what my friend had to say to me about this album while arguing about it the other day:
"He doesn't rap!"
"It's all electronics!"
Now, on paper/screen image, it's impossible to register the confused disgust in my friends voice. That's because he was just making statements, though ones marked with hatred towards the album. For a person who isn't neccesarily looking for a formula, 808s and Heartbreaks is a solid pop record. The beats are, if anything, still fresh, "despite" the electronics of it. And the auto-tone? Well, it's better than T-Pain. Moreover, songs like "Say You Will" and "Coldest Winter" seem to stick to the inside of your head no matter what the ratio of electronic singing to rapping may be.
23. Hot Chip – Made In The Dark
It's got some of the best dance tunes of the year, and some of the oddest slow dance songs of the year. You have to give it a hand to Hot Chip to keep on revitalizing their sound and style and interspersing it with effects from reggaeton to two-step to old school soul.
22. The Black Keys – Attack & Release
Danger Mouse. Danger Mouse is like cowbell for those musicians who aren't Blue Oyster Cult. With Attack & Release, DM revitalizes The Black Keys tired and true approach and certainly makes it less tired, working in to fill in the blanks that come with only having a guitar and drum. The funky bump of "Strange Times" and wistful ballad of "Psychotic Girl" have helped revitalize my own faith in this band.
21. Marnie Stern – This Is It and I Am It and You Are It and So Is That and He Is It and She Is It and It Is It and That Is That
Here's a record for folks who think that the world of the guitar virtuoso is gender oriented. Marnie Stern can shred faster than most of those old phallic hair metal acts, and she does it well to boot. AC/DC-styled riffs at chipmunk paces, math-stylized song structures, and Zach Hill make for pop-fueled fun.
20. Wilderness – (k)no(w)here
When the vocals on "High Nero" kick in halfway through the song, it's as if Wilderness grabs you and goes, "where have you been?" I can't believe it took me until this band's 3rd album to discover them, and what a treat it is. Stormy, ambient psych-folk combined with brutally haunting vocals that don't so much scare as orate tales of loss and redemption. Too bad it's over far too quickly.
19. Dr. Dog – Fate
Another band that took me far too long to discover, but this was purely out of my musical filtering mechanism: the name Dr. Dog just has no appeal. Fortunately, their music is an entirely different beast, a wonderful combination of Beatles melodies, country-fried guitar rants by The Band, and who-knows-where-we'll-go-with-this-song of good ole' indie rock. These guys might actually turn me on to classic rock instead of the other way around.
18. Chad VanGaalen – Soft Airplane
VanGaalen's third album is also his best (so far at least), and a complete picture as well; previous records sounded like a mess of VanGaalen screwing around in his basement with random instruments he created and a few good tunes surviving. Well, here that process has paid off, with some of his most mind-gnawing work to date: death, freak-folk, and oftly odd melodies crash and collide to make a great listen all the way through.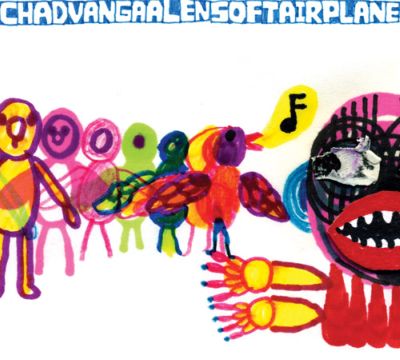 17. Alias – Resurgam
It's been a banner year for Anticon, and Resurgam is just one of many great records to come out of this Oakland collective over the last couple of years. Almost entirely composed of instrumental work, it's an ambient take on old school hip-hop that will put you in a state of relaxation for hours on end. It even seems a bit unpleasant when the two vocal songs kick in, at least until you recognize that the same music sits at the foreground of the album.
16. Beach House – Devotion
I was itrigued to see how Beach House, a band who's music could easily lull one to sleep, would perform under the insurmountable pressure that comes with taking the stage at Siren Music Festival. Facing the grueling heat, packed crowds of hipsters, and set time near the end of a long, long day, Beach House performed as beautifully as their melodies. Devotion is a spellbinding, ambient mess of tunes that work under any weather or state of emotion. Victoria Legrand's voice is as soothing as it is soulful, and it carries the entire album to its sleepy-headed end.
15. No Age – Nouns
No Age's Nouns is filled with the kind of songs you seem to know before you even hear them. They're packed with anthemic punk-rock riffs and bursts, yet remain emotionally perplexing and experimentally arousing. And it's loud as hell. It's hardcore for the arty crowd, art for the little punks in us all, and something for everyone.
14. Wale – Mixtape About Nothing
Here's a hip-hop artist with a good head on his shoulders and an ego that's perfectly comfortable in a realm where folks have to defend theirs at every turn. That could be because Wale can crank out dozens of tunes about something as archaic to hip-hop as Seinfeld can be… and it's great too. Infuse sick rhyming and lyrical foreplay with old school hip-hop meets go-go (and perhaps that genre's ticket out of D.C.) and tons of rap's biggest names and you wouldn't feel the need to defend one's ego either.
In an odds-and-ends collection of articles, a close friend of Lester Bangs' describes PiL's Metal Box as a musical accompanyment to his depression. In many ways, London Zoo feels like an equally derranged equivalent; the record is so dark, intense, and angry, I've yet to listen to the entire album in one sitting. But its intensity displays its musical muscle, as deep-in-your-chest bass grinds with glitchy grime and head-banging dancehall to create one intensely personal meditation on the nadir of society. Not for the weak, but definitely for the musically ambitious.
12. Forest Fire – Survival
Here's a summer record for you – sprawling lo-fi folk that mixes with Velvet Underground-style proto-punk and garage rock done on spare acoustic instruments. It's enchanting and oft-aggressive, and man does it get in your head and stay there. And to think, they gave this gem away for free…
11. Subtle – Exiting Arm
The impact of collaborations with members of TV on the Radio bear their mark on Subtle, who's Exiting Arm takes their sound and turns it to the noises in between. Whereas on earlier recordings Doseone could often be heard spitting rhymes at 100 mph, here his vocals are subdued and sink into the tapestry, which taverses across an odd array of sounds and vibrations, but is a whole product throughout. The minute I heard this thing in an ice cream place over the summer I knew it was stuck to me; months later it's yet to leave my head.
10. Food For Animals – Belly
Noise and hip-hop? Whodathunkit? Food For Animals, that's who. And that's why Belly, the long-delayed first album from the DC/Baltimore group, is in the top 10. It's hard to find an album more ambitious in its sound and execution than FFA's, and it's as accessible as any other hip-hop blaring on mainstream radio today. It's glitchy, bass heavy, and dark as hell, but this trio certainly spins some sick off-beats and rhymes that are more shout-along-chorus-friendly than anything else.
9. Friendly Fires – Friendly Fires
This is what the Foals record could have been, and what I originally wished it was: a great post-punk dance piece. Infusing that genre with strains of disco, salsa, and Brit pop, Friendly Fires' debut defines irresistible. The music is taught and catchy, the sound gets in your head and shakes your hips, and the hits keep coming. Friendly Fires sounds like a singles collection, with each track as pop-friendly as the last – funny to think this is the band's first record.
8. The Dodos – Visiter
It may be due to the fact that I had this album on repeat for most of the spring, but Visiter seems to uphold a sense of rebirth and newborn energy that's often so hard for musicians to capture. Some folks cast the band off as acoustic Animal Collective wannabes, but the album is a beast unto its creators, filled with child-like enthusiasm and sincerity that makes them altogether unique.
7. The Mae Shi – HLLLYH
2008 could be the year of concept albums, or, more correctly, the year that produced a handful of great concept albums. The Mae Shi's tribute to the end of the world sounds positively, well, great. It's scary, but the band's mix of agit-punk, twee, and art pop have an endearing effect that carry through the morbid lyrics of "Run To Your Grave" (and that title to boot). It's got energy and vigor that blasts through the entire album, one concept to the last. For such a depressing topic to tackle, these guys sure make it sound fun.
6. Neon Neon – Stainless Style
Nostalgia can be a killer, and it's flogged the 80s past the state of decay, but man oh man do Neon Neon know how to make a bad thing sound great. To call it nostalgia however is making the great concept of Stainless Style seem passe, when in fact it's a record more "with it" than countless other albums released this year. Much as Gnarls Barkley emphasized "neo" in their neo-soul mix debut two years ago, Neon Neon take the aesthetic tics of 80s pop and place it into an entirely new landscape. It makes it so that the chincy-sounding synth sounds altogether refreshing on tracks like "Dream Cars" or "I Told Her On Alderaan." It also helps that this project came from the meeting between oddball producer Boom Bip and even-odderball Super Furry Animal Gruff Rhys, and they certainly saved their pop-tooth for this record.
5. Ponytail – Ice Cream Spiritual
Ponytail put on one of the best shows I've seen this year – so good, I saw them thrice. So I was immediately drawn to the record after grabbing an early release copy after seeing them, doing nothing but playing it for weeks straight. After my mania over the album subsided, I can safely say it's still a fantastic record. It's a swirling mess of punk-art-rawk, one that caterwauls off of every surface and smoothly glides through the down-tempos and down singer Molly Siegel's over-worked larynx to create a record that seethes with passion and power. Kudos to producer J. Robbins for wrestling their great live sound into a well-preserved recording.
4. Sun Kil Moon – April
April opens with a song that nearly hits the 10 minute mark, and could have sustained my rapt attention tenfold. "Lost Verses" sweeps along like any Mark Kozelek song, yet there's something profoundly new and slightly different than the frontman's previous efforts. It could be his meditation over the death of a former muse, who's image is never quite literally addressed, but who's absence hangs over the entire record. Whatever it is, Kozelek delivers every last line with undue sincerity, and it's probably because they are his own; in retrospect, the biggest problem with Tiny Cities, the last Sun Kil Moon album made entirely of Modest Mouse covers, is that the music wasn't created by Kozelek himself (although he does a great job of re-imagining most of the songs on the album). But here, you get the sense that Kozelek's body struggles with every pick at his guitar, even though all you're left is with that voice and no image behind it. But what a voice it is.
3. Parts & Labor – Receivers/Escapers Two
For a band that makes a lot of noise, Parts & Labor have made music for just about everyone. Receivers is a fantastic opus of noise juxtaposed against anthemic, stadium-sized pop rock. The electronic bursts and blips are still there, but they've become a fixture of a larger pattern; noise doesn't give way to bubblegum hooks and back again, but it's all intertwined throughout the album. From "Satellites" to "Solemn Show World," there's a song for the punk in everyone (and every punk who submitted sound samples is in a song). For those who don't like getting too close to accessiblity, Escapers Two offers 50+ "grind pop" songs, most of which barely hit the minute mark and have the mark of dark metal and hardcore punk bursting from the seems… at times, it's quite beautiful to boot.
2. Why? – Alopecia
What a pleasant surprise Alopecia turned out to be. Why?'s previous work always had some inadvertantly beautiful quality to it, but it'd always been battling a range of sounds and ideas passed out by Yoni Wolf. On Alopecia it comes together in a brilliant and cohesive work, with Wolf's lyrics and stories spilling into one another, but neither clouding up the music or his often enticing nasaly rasp. And, much like most of the top albums of the year, it is a whole product instead of a combination of some good songs repackaged for consumption.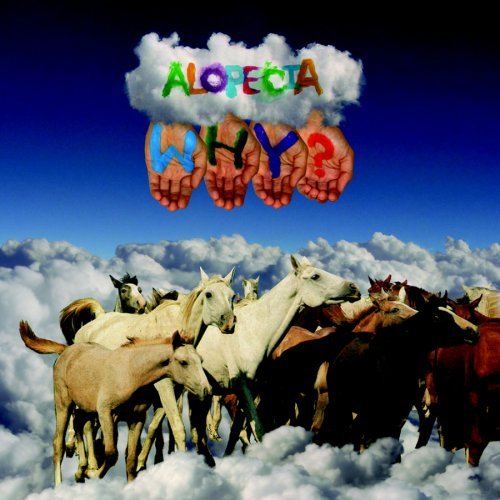 1. TV On The Radio – Dear Science,
Numbers or not, there was no question this would be my number one album of the year. From the opening moments of "Halfway Home," I knew this would be a fantastic album. Unlike Desperate Youth, Bloodthirsty Babes and Return To Cookie Mountain, Dear Science, is a fully fleshed-out album from beginning to end as each track seemlessly gluides from one to the next. The band's turn to a poppier and all together accessable sound is just as natural as their work as a band in and of itself; they're still pushing musical boundaries, using a wide array of feedback and avant-guard noises, but it's an altogether cohesive and beautiful mess.
Albums I wish I had more time with, because they probably would have made this list:
For those of us who can't get our hands on every available album to come out this year, it certainly made the "best of" list process a bit more difficult because, having heard at least snipets of the following albums, I wish I'd gotten them all. But, there is always time for more new music. Anyway, here are the ones I would have liked to have on my list:
High Places – High Places
Extra Life – Secular Works
Fall Out Boy – Folie á Deux
Beck – Modern Guilt
The Notwist – The Devil, You + Me
HEALTH – HEALTH/DISCO
Eddy Current Suppression Ring – Primary Colours
Lykke Li – Youth Novels
Dan Friel – Ghost Town
Eagles of Death Metal – Heart On
Fleet Foxes – Fleet Foxes
Edie Sedgwick – Things Are Getting Sinister And Sinisterer
Heavy Heavy Low Low – Turtle Nipple and the Toxic Shock
Spiritualized – Songs in A&E
Death Vessel – Nothing Is Precious Enough For Us
Doomtree – Doomtree
Milosh – iii
El Ten Eleven – These Promises Are Being Videotaped
School of Seven Bells – Alpinisms
Fucked Up – The Chemistry of Common Life
Dananananaykroyd – Sissy Hits
Hot Club de Paris – Live at Dead Lake
Best of 2008 from 2007:
The albums from last year that made a lasting impact this year.
The Dillinger Escape Plan – Ire Works
Bon Iver – For Emma, Forever Ago
Double Dagger – Ragged Rubble
Videohippos – Unbeast The Leash
Muscles – Guns Babes Lemonade